Christ is risen from the dead. trampling down death by death,
and upon those in the tombs bestowing life!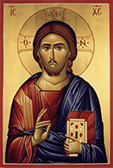 Thomas' Doubt vs Living Faith
After His third-day Resurrection, Christ appeared and stood among His disciples, who were exceedingly glad when they saw Him alive. But Thomas was not among them, and when they spoke to him, they said: "We have seen the Lord. But he said: Unless I shall see in His hands the marks of the nails, and put my finger into the marks of the nails, and thrust my hand into His side, I will not believe. After eight days, again his disciples were within, and Thomas was among them. Then Jesus came, the doors being shut, and stood among them and said: "Peace be with you. Then He said to Thomas: Reach here your finger and behold my hands; and reach here your hand and thrust it into my side; and be not faithless, but believing." And Thomas answered and said unto Him: My Lord and my God. Jesus said to him: Thomas, because you have seen me, you have believed; blessed are they who have not seen , and yet have believed."
Faith in the truth and trusting truthful persons is the most wonderful path to knowledge, while without faith a man wanders blindly. If one comes to a crossroad and does not know which way to travel, then being advised by a kind man, he most likely will reach his destination. Otherwise he could wander aimlessly. Faith, derived from the grace of God, leads a man to the greatest of all riches, endless life, inner peace, happiness, unmitigated joy and exultation. Faith is the blessed mother of hope and love, and these three are essential for human happiness, there being nothing else to render a man blissful.
The disciple Thomas did not do well as the Lord signified when He said: "Be not faithless but believing." Thomas should have immediately embraced and radiated the joy of his brothers who were basking in the joy of the resurrection of Christ. Instead he expressed his mindset, with the phrase, Unless . . . I will not believe. We must learn to trust faithful witnesses among us and not be skeptical and unbelieving, but we must do so with care and prayer. Thomas insisted that only HE could be a faithful witness to the truth of the resurrection: "Unless . . . I will not believe!"
Pascha seals the new Covenant which Jesus Christ made with His Church before the Cross, but first let us compare the old Covenant of the Jews. When it was in effect, priests offered animal sacrifices and sprinkled the congregation with animal blood as a sin offering. But with the new Covenant, the Lamb of God is willingly sacrificed on the Cross and His Blood is shed, His side is pierced, for the forgiveness of sins and life everlasting. Jesus Christ declares these powerful truths "I am the bread of life; he that comes unto me shall never hunger, and he that believes on me shall never thirst . . . I say to you, he that believes on me has everlasting life . . . I am the living bread which came down from heaven; if any man eat of this bread, he shall live forever; and the bread which I shall give is my flesh, which I will give for the life of the world . . . Unless you eat the flesh of the Son of man, and drink His blood, you have no life in you. Whoever eats my flesh and drinks my blood has eternal life; and I will raise him up on the last day . . . For my flesh is truly food and my blood is truly drink. He that eats my flesh and drinks my blood dwells in me and I in Him."
HE THAT EATS MY BREAD AND DRINKS MY BLOOD HAS ETERNAL LIFE
The faithful and continuous fulfillment of Christ's command to eat and drink His flesh and blood is perfectly preserved in the Mystery of Eucharist, celebrated properly only in the Orthodox Church which Christ established and preserves according to His promise. Our Lord Jesus Christ, establishes the correct belief firmly and leaves no room for doubt or unbelief. Without the Body and Blood of Christ, there will be no salvation or eternal life. In the West, Pascha, which they call Easter, is celebrated on one day like any other feast. The contrast in Orthodoxy should arouse amazement among the heterodox. In Christ's Orthodox Church, not only is it not ranked as another feast, but elevated much to the heavens, being the Feast of feasts and the Festival of festivals! Pascha week is celebrated as a single continuous day with no fasting.
In Pascha is found the cause of our total happiness. The word Pascha indicates "passing over from death to eternal life." This means that as faithful Orthodox Christians, nourished with the Body and Blood of the Lord, death is welcome for it leads to eternal life. Death is not morbid but is the door to everlasting joy in the Lord. For this reason martyrs gladly gave their souls to torment with joy and thanksgiving, and expressed gratitude to their torturing murderers. The wounds and broken bones are welcomed as pearls and diamonds. For forty days after Pascha, all services, including funerals, begin with the joyfully greeting: "Christ is risen from the death, trampling down death by death and upon those in the tomb bestowing life." All faithful throughout the world greet each other with Christ is risen!, the response being, Truly He is risen.
In our modern age, when people have chosen technology to replace faith in God, belief is waning and fewer people show up in the churches. But those whom Christ blesses saying: "Blessed are those who have not seen yet have believed" Will continuously celebrate with great joy this Feast of feasts and Festival of festivals, and will sing in gladness: "Christ is risen from the dead; trampling down death by death and to those in the tombs bestowing life!"